View a samling of my portraits of people and pet portraits.
Painting from Photographs
Rebecca paints using photographs for reference and inspiration, yet most portraits draw on several sources. Collecting a few of your favorite shots of the subject is a great way to start the conversation, even when one image in particular stands out for its special meaning. In addition to being handy as references, your photos help Rebecca see the subject through your eyes and ultimately paint a more meaningful portrait.
Photos for Portraits of People

For portraits of people, it often works best for Rebecca to do a photo shoot when possible. If you live in the Seattle area, Rebecca will meet with the subject in person and do some quick sketches and take reference photos. Most of the time, this will take one or two sessions which last between one and two hours. Proper lighting, angle and composition are critical for a good rendering of the human face. Out of the Seattle area? Rebecca can travel at the clients expense to get images and if you're interested in a small portrait, she can often work with clients photos. Feel free to contact her with any questions or ideas.

Photos for Pet Portraits

You know your pet best, and because they can often be either too excitable or shy around someone new, it usually makes sense for you to take your own photos. Please share your favorite pet photos, and Rebecca will happily offer advice on taking the ideal portrait reference. If you're local to the Seattle area, Rebecca is also available to help out in person.

Photos of Special Moments

Sometimes a snapshot is all that is left of a cherished memory, and a commissioned painting can be a great way to give that moment new life.
Just get in touch with Rebecca to get started!
Give a Portrait Painting as a Gift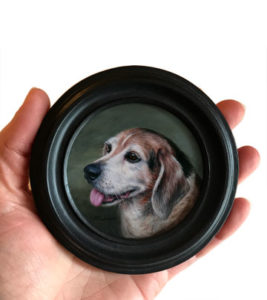 Portraits make wonderful gifts! They can be intimate, celebratory, or playful, depending on what you want your gift to say. Receiving a portrait is a powerful experience, and the portrait itself only becomes more meaningful with time.
Learn more about past portraits created as gifts on Rebecca's blog.
Gift Certificates
Portrait gift certificates make a flexible and unique gift. They make a great gift on short notice, with the option of involving the recipient in the process. Details of the portrait do not need to be worked out ahead of time, and the price can be kept secret as you prefer.
Prices and Payment
Pricing Guide (Without Framing)
| Size | Single Figure | Single Pet |
| --- | --- | --- |
| 4" x 4" and smaller | $950 | $650 |
| 8" x 8" | $1550 | $1150 |
| 12" x 12" | $2500 | $1700 |
| 16″ x 20″ | $3700 | $2600 |
| 20" x 24" | $4800 | $3200 |
| 24" x 36" | $6100 | $4100 |
| 36" x 48" | $8500 | $5600 |
Prices vary depending on the details of the work. Multiple figures and complex backgrounds increase the price. In general, complicated backgrounds add 30%, additional pets add 20%, and an additional human figure adds 50%.
Payment Schedule
The price is broken into two or three equal payments. The first payment reserves your place in the calendar, and the last payment is due when the artwork is finished.
Portrait Commission Schedule
Portrait commissions are booked out about a year and a half in advance. If you have a deadline that's sooner, contact me right away. I can sometimes accomidate an earlier deadline or we can do a gift voucher. Contact me now to get your portrait in the queue.