A first-person perspective captures the intimacy of a unique moment.
This image is so rich in textures to explore, from the surface of the water over the rippled sand, to the skin and all the various textiles. But what really makes this painting special is the story that inspired it and brought nine people together for a day to remember.
When I was first approached to make this painting, I admit I was a little skeptical. My client mentioned that he had taken the image the previous weekend and wanted a portrait made from it, with some slight modifications. It seemed like such a casual request to warrant countless hours making a painting that will last hundreds of years. I was compelled enough by the image to do a mock-up and give an estimate, yet I was curious, what made this image so special?
When my client accepted the estimate, he gave me the backstory: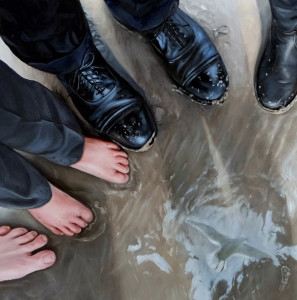 This image is from this past Saturday when we scattered my Mother-in-law's ashes at the beach and I shot this photo when we were all standing in a circle before the ashes were scattered. My idea of this painting is to give my wife a gift and a memorial from a really beautiful day. Part of what I like are how different all of our feet are, dress shoes and suit from the service bare feet, etc. The idea of the seagull is a representation of Jean in the middle of us.
The story was so moving that it completely transformed my perspective on the commission, from being slightly skeptical to feeling deeply honored. What a stunning reminder of the power of a story to give meaning, that a few words of insight into a shared experience can make an image so deeply moving.
What a beautiful memorial, and what a loving husband to bring the idea to life.