Six months in, I've just finished my third monthly miniature!
Although I find enough time to finish a steady stream of paintings, it goes toward commission work first. Yet it feels oddly appropriate that this series of portrait miniatures should be (comparatively) neglected: while it celebrates both parenting and art making, it also considers them as competing needs.
And I contemplate some of the people in my life that I love most, and what they bring into the world. On that note, allow me to introduce Sam Keefe, son of Andrea Wohl Keefe and Colin Keefe. When I had the idea to do this series, I thought of Sam first. His mom Andrea was my studio mate in college, and she is still a dear friend, though we're thousands of miles apart. When I came to Seattle, she went to the opposite coast, braving the lion's den of New York City, and is now settled in Philadelphia. We've stayed in touch, and I've had the privilege to watch Sam grow from afar.
From Andrea:

"Sam is this really great human being and I feel so lucky to have him in my life.  He's so smart, caring, incredibly loyal and good through and through.  I really can't believe that I'm his mom.  He'll be eleven next month, and sometimes I still feel like his real mom is going to show up.  It's crazy that one day you're pregnant and the next there is this human being in your life and you're helping to raise them.  Needless to say, I'm still figuring all this out – one day at a time.  Colin and I are both artists, and we knew we wanted to have a kid together.  But where we both have masters degrees in studio arts, there was nothing we did besides a two hour infant CPR class to prepare for becoming parents.

As for balancing parenthood and being artists, we are also still figuring this out one day at a time.  In addition to being parents, we both have full time jobs, run an exhibition space, Mount Airy Contemporary, and have our studio practices. I have decided that there is no such thing as balance, at least for me.  I am always neglecting one thing or another (like responding to your request for a statement – ugh!).  That part kind of sucks.  Thankfully, Colin and I are in this together and we do a lot of "taking turns".  On a positive, I think Sam gets to be raised by two parents who love him unconditionally and who also are committed to making art and staying engaged with the art community.  And until his real mom shows up, he's kind of stuck with us :)"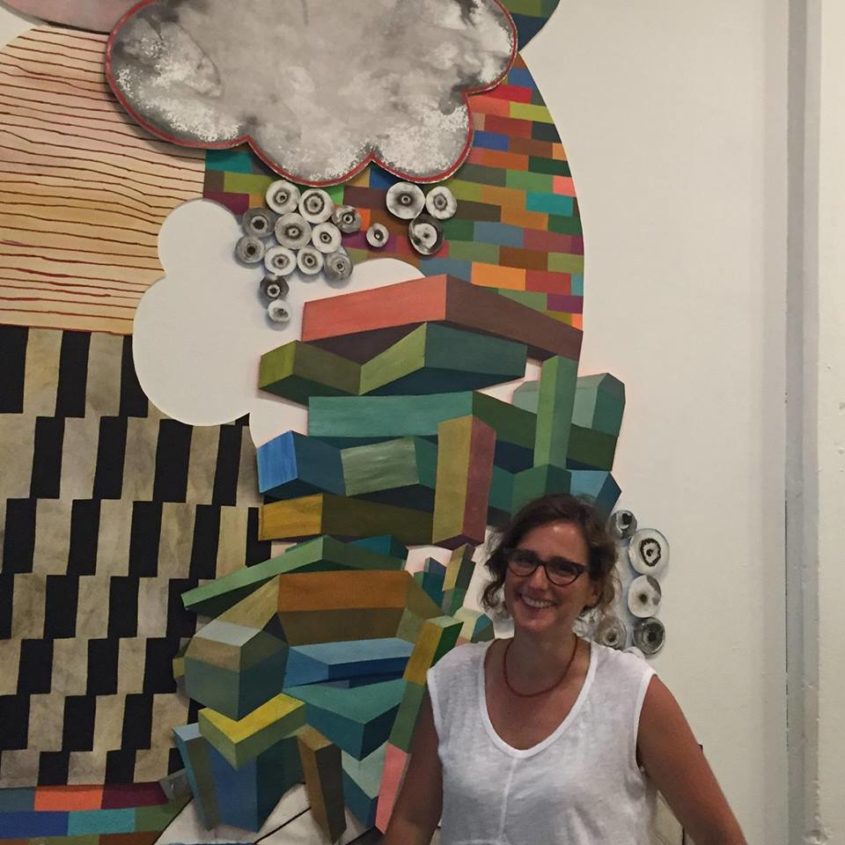 Andrea Whol Keefe
Andrea Wohl Keefe was born and raised in Bridgewater, NJ. She received a BFA from the University of Michigan in Ann Arbor, MI, and an MFA from Miami University in Oxford, OH. Andrea currently lives in Philadelphia, PA with her husband, Colin Keefe, their son, cat and dog. She teaches art at Central High School in Philadelphia and works in her studio. Andrea and Colin also run Mount Airy Contemporary Artists Space.
Coln Keefe
Colin Keefe (born Boston, MA) received an MFA from Cranbrook Academy of Art and a BFA from Washington University.
Recent solo exhibitions include Robert Henry Contemporary, New York, NY, Abington Arts Center, Jenkintown, PA, and RHV Fine Art, Brooklyn, NY.  His work has been reviewed in the New York Times, Village Voice, Bushwick Daily, Philadelphia Inquirer, Philadelphia City Paper, Toronto Globe and News, LA Times, Sculpture Magazine, theartblog.org and Title Magazine.
In addition to his studio practice, Keefe has been curating since 1995 – first, as co-director of 57 Hope in the Williamsburg section of Brooklyn, NY (1995-2001), and currently as co-director of Mount Airy Contemporary (2009-present).
Keefe is represented by Robert Henry Contemporary in New York.