In art school I was known as the "bug girl" because almost all of my painting had insects in them. Insects were a huge inspiration, and though they are no longer the primary focus on my work, they have continued to appear in my paintings throughout the years. I find that the closer that I look at the insect I'm painting, the more I feel a sense of empathy for it. I imagine a personality in there, and wonder about the history of it's life.
My insect collection has been with me since my art school days. Some of my insects were gifts from Cincinnati Zoo entomologists, while others I sought out myself. I learned to pin insects from a friend I met at the frame shop where I used to work.
Anita's Insects
The insect specimens in this painting are from a very special part of my collection. These creatures came from three prized boxes put together by photographer Anita Douthat when she was a girl in Northern Kentucky. I knew Anita through her husband Cal Kowal, who was my photography teacher at the Art Academy of Cincinnati.

Still life paintings can tell a secret story through the symbolism of their elements. These pale raspberries grow in my garden and are symbols of kindness. The shell came from my husband's pocket (he's always collecting shells and rocks on his adventures) and are a symbol of birth and fortune. Insects are all around us, yet their forms, life cycles, and social structures couldn't be more different than our own. Dragonflies symbolize change, and grasshoppers luck. Bees have had close ties with humanity and throughout the ages have variously stood for power, love, and industry. All of these types of insects can be found in the Northern Kentucky region where my models were originally collected over forty years ago (I exaggerated the blue in the dragonfly which was quite faded).
This painting is 5″ x 5″, oil on copper. Go to the Monthly Miniature page to see more of the paintings from the series, In Season.
Jan van Kessel the Elder, Flemish still life master that inspired this months painting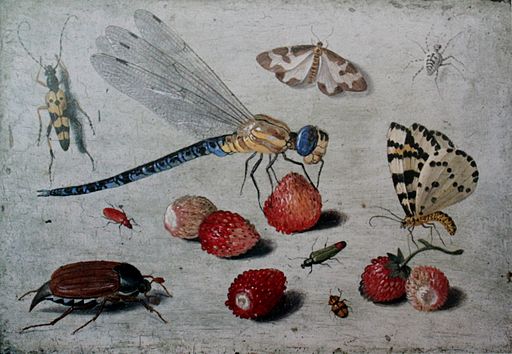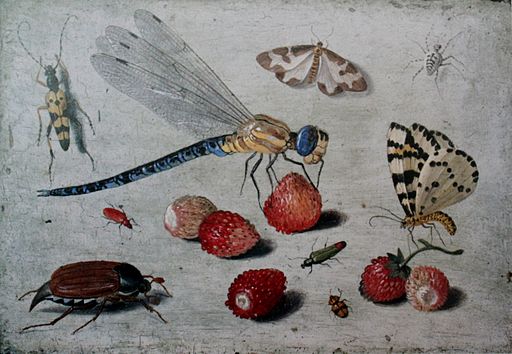 Jan van Kessel the Elder had big shoes to fit into. He was the great-grandson of Pieter Bruegel, who is cited as the most significant artist of Dutch and Flemish Renaissance painting. His grandfather Jan Brueghel the Elder, was a close friend and collaborator with Peter Paul Rubens and the two artists were the leading Flemish painters in the first three decades of the 17th century. Not to mention his uncles and great uncles… Let's just say, he came from a family that made a big and lasting impact on the art scene.
Starting his training at the age of nine, he was particularly influenced by the work of his grandfather and was quite versatile. He worked in many genres including studies of insects, floral still lifes, marines, river landscapes, paradise landscapes, allegorical compositions, scenes with animals and genre scenes.
I was drawn to his insect still life paintings by his playful compositions that fill every section of the page, while carefully balancing color and shape in a seemingly effortless manner. The results of his carefully painted tiny subjects do not come across as cold scientific illustrations, but instead are warm and lively portraits. And if that weren't enough, he also painted these miniature still lifes on copper (my hero!).