My English Spot rabbit, Harriet, makes her debut in my newest monthly miniature painting. I was inspired by the forest still life paintings of Otto Mardeus van Schrieck a Dutch painter from the 1600's.
Otto Mardeus van Schrieck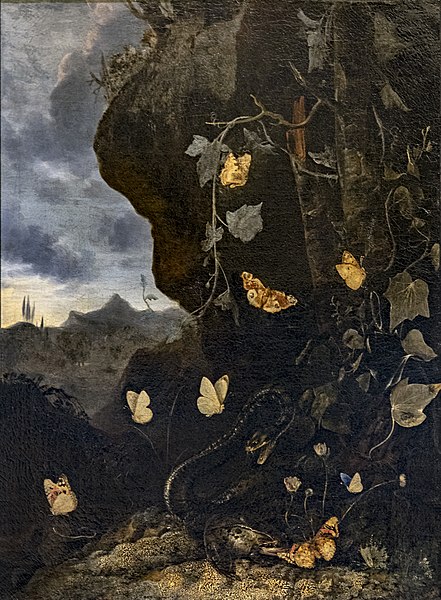 Van Schrieck's paintings juxtapose light and dark. A sinister snake might lurk in the gloomy foreground while a radiant bloom or a moment of light glows from the background. The New York Times published an article about a new book that explores his work last November. It's a really colorful read, and I highly recommend taking a look, if only to see some of his fascinating paintings.
Though some elements in my painting come directly from the careful study of a work of van Schrieck's, I definitely took a lighter approach to my painting. I told my husband that, "I didn't have such severe subject matter in me." But after the painting was finished and signed, filled with flowers that reminded me of my family, a mountainous landscape that reminds me of my Pacific Northwest home, and insects, frogs and rabbits that remind me of my childhood, I had a miscarriage. It was the fifth since my son was born three years ago. After finding out, I picked up my paint brush and added a snake. I'm doing fine and my spirits are higher by the day. It's just interesting, after all these years of painting, to recognize how much of myself I put into each one, however subtle or unconscious.
I hope you enjoy this month's painting. Take a look below for some detail images. The Silvery Blue butterflies were particularly trying on the eyes!