Nothing says creature comforts to me like chocolate. After my son and I play out in the cold, it's our custom to pull a bench up to the fireplace, drink hot chocolate and sing songs together. We don't drink from gilded porcelains, but it is luxurious just the same.
I wanted to capture the mood that such joyful moments bring me, so this month's painting is all about luxury, intimacy, and having the sense of peace to enjoy it all. The gilded chocolate cup and pot are about the richness of the feeling of "having it all!". Chocolate is all about comfort, and the bonsai speaks to harmony and peace with the world.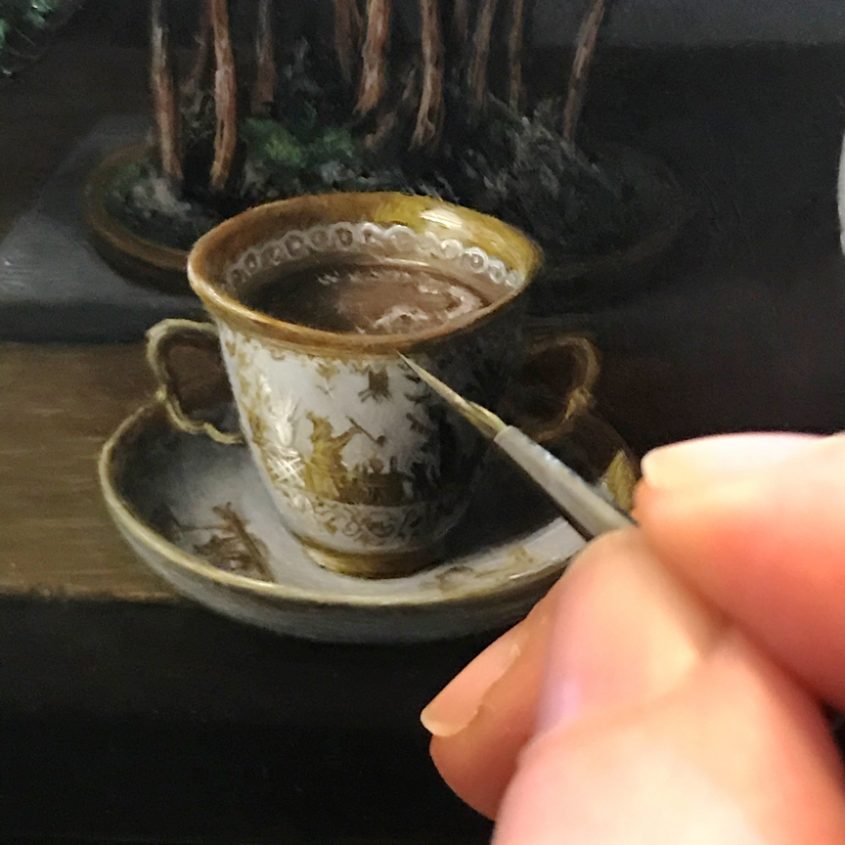 The chocolate cup is modeled after one from the Seattle Art Museum collection, and I've found a matching chocolate pot in the collection of the Cooper Hewitt, Smithsonian Design Museum. (The Smithsonian Magazine has a great online article about the history of Chocolate pots if you'd like to learn more about them.) Though they're thousands of miles apart, both porcelains are attributed to the Messian Manufactory in Germany and date from the early to mid 1700's.
Adding a bonsai with its feeling of tranquility was the last piece of the puzzle for my composition. The one in my painting is inspired by "More friends the better", a Chinese Juniper "forest" originally created in 1972 under the care of T. Kawamoto. You can visit this bonsai at the Pacific Bonsai Museum just south of Seattle, and if you would like to show your support, you can even befriend a bonsai. The title, "More friends the better", says it all as we eagerly look towards a future of sunshine, vaccinations, and most of all visits with friends and family.
The creator can write their own story in the objects of a still life, but more incredibly, we can all write our own stories there. Part of the beauty of a still life painting, or any art, is that meaning is so personal to the viewer. I hope you can find something in this month's painting that sparks some happy memory or a feeling of comfort for you.