The theme for my new still life series will be the idea of "Simplify". I've been thinking a lot about simplifying my life and trying to learn how to set aside much-needed time for relaxation and contemplation. I've titled my series for this year "Simplify" and I'm hoping to bring that idea into my life in the coming year. Contemplating the idea in how I'm composing my work seemed like the perfect way to start (but it's harder than you might think!).
Oranges are in season now, at their peak of flavor during these cold winter months. Beyond being delicious to eat and beautiful to look at, for me oranges have become a personal metaphor for pushing through and staying alert.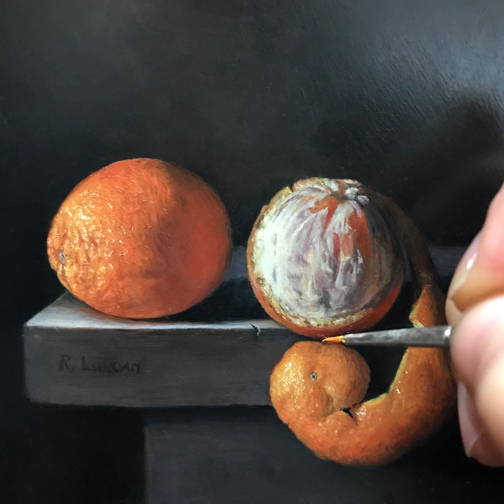 Years ago, I worked full time as a mount-maker for the Seattle Art Museum while also painting full time. I was also an avid hiker and practiced ballet and Iaido (a Japanese martial art). Each day was packed full. And each day around three o'clock my body would protest and demand that I take a nap. After trial and error with way too much coffee and chocolate, I found that oranges not only tasted refreshing but made my whole body feel refreshed. Oranges perked me up perfectly and gave me the second wind I needed to get me through until I could take a nice, long nap on the bus ride home. "Orange time" soon caught on with my coworkers and became a daily ritual.
I hope you enjoy the first painting of this new series! Sign up for my Newsletter if you'd like to see the series as it unfolds.