Swallowtail Butterflies, New Series of Miniatures
The main subject for this years series of monthly miniatures will be my favorite kind of butterfly, the swallowtail. With over 550 different species, they appear in a vast array of colors, shapes and sizes and I will have no shortage of inspiration. For this painting, I chose the Pipeline Swallowtail. This butterfly is found in extensive areas of North America; in the United States, it's mainly found in the south and southeast, plus an isolated pocket in central California.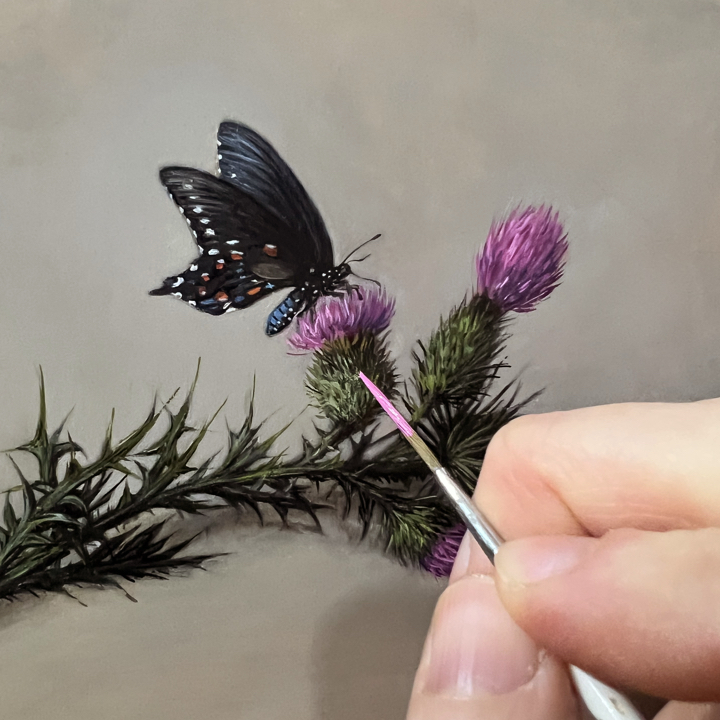 I paired my swallowtail with thistle flowers, which are a favorite (of mine and of the butterfly). The flowers on a thistle stalk don't usually bloom all at once, but I've taken some liberties. I was inspired by the compositions of the Dutch still life painter Jan van Kessel. Van Kessel worked in the mid 17th century, at the height of the golden age of Dutch still life painting. It was common practice during this time to create paintings that were seasonal impossibilities, pairing blooms that appear months apart in nature, or all of a plant's blooms open at once, as I've done here. I wanted to create this simple moment, full of plenty for my butterfly.  I love the contrast of a vibrant thistle in bloom. Thistles have the perfect pairing of soft flowers and spikey leaves and stems.

Some of you are squeamish about insects, and I hope you'll indulge my love of these delicate creatures. Rest assured, I will be creating work for the gallery in the upcoming year, both with and without insects. 😉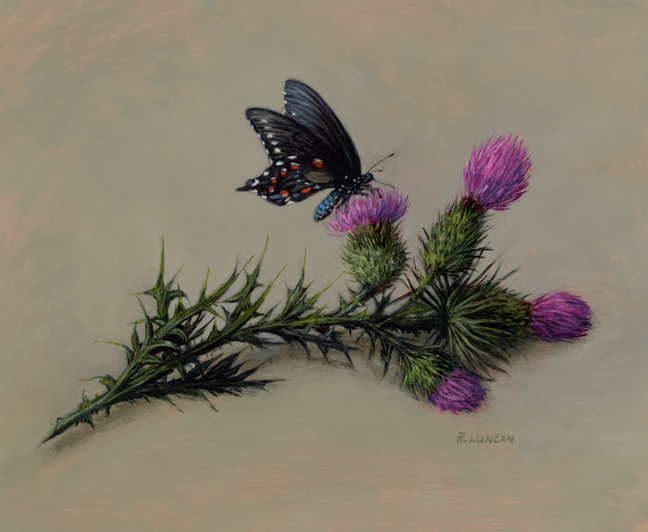 After my crazy, overloaded 2022, I can't tell you how happy I am to have this painting finished by the first week of January! I wish you a Happy New Year, full of deadlines met ahead of schedule.