I currently have 5 limited edition floral prints that feature daffodils in the shop. I've been making still life paitnings consistantly for the last 5 years, and have made at least one every year with daffodils (I don't have prints available for all of them). I realized that this was the first year I didn't make a daffodil painting for the month of March, however! My son was born in March and I had around 50 blooming in the back yard when he was born. The window in his nursery overlooked the garden and I always think of them as his special flower.
I can't go back in time to make another painting, but I have drawn up ideas for a larger daffodil painting for a show at Harris Harvey in 2024. A year and a half is a long time to wait, so I also decided to add another limited edition floral print to the store and to offer a special discount for one month only.
New print release!
The newest addition to the store is a print from a painting from my "Creature Comfort" series of monthly miniatures. It's titled "Sweetness of Spring" and includes a little bouquet of daffodils and one of my favorite things (cake). Carrot cake with cream cheese frosting has become my son's offical birthday cake and we all look forward to diving in. It's also the only time of the year that I can actually get him to eat carrots without any complainting.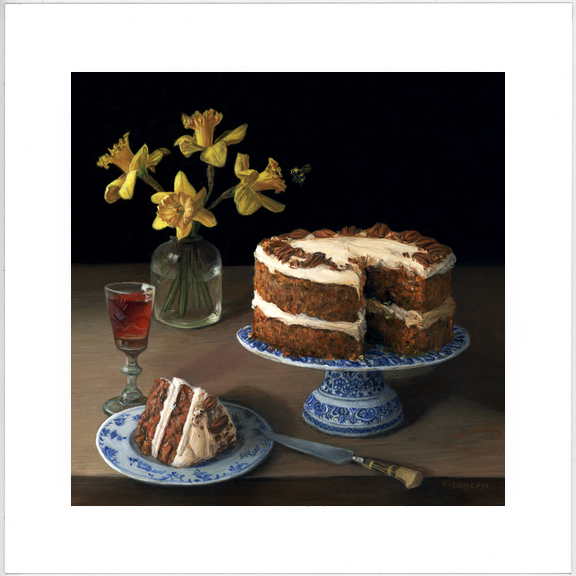 20% off Daffodil Prints for the month of May
Order yours now through May 31st and you'll get a special price on all the daffodil prints.