Easter is just around the corner and I have several Rabbit Limited Edition Prints available in the shop. The connection of rabbits to Easter has always been a bit baffling to me, so I took some time this year to see what I could find out. Keep reading for information on the symbolism of rabbits through the ages and the origin of the rabbit as the egg bearer for this holiday.
Rabbit, symbol of fertility and rebirth
In European traditions, the Easter bunny is known as the Easter hare. The hare has been a symbol for rebirth and fertility and has been included in rituals and religious roles for thousands of years.
Archaeologists have found hares that were given ritual burials alongside humans in fossils from as early as the Neolithic age (10000 BC – 2200 BC), a. They have interpreted the burials as a religious ritual, with hares representing rebirth.
During the iron age (1200 B.C. and 600 BC) when hares and chickens first arrived in Britain, some archaeologists believe they were seen as creatures of reverence, not dinner. Many examples of burials from this time period have been discovered without any signs of butchery.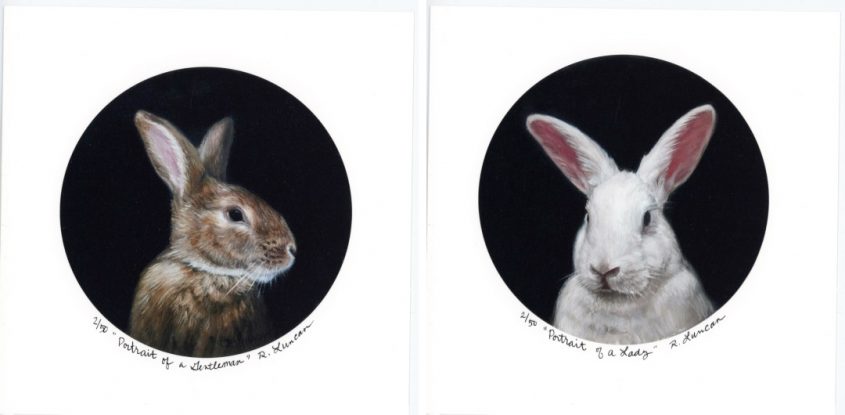 The Easter Bunny
It's not too much of a stretch to find a historical symbol of rebirth associated with the Christian holiday of Easter. But the origin is believed to have begun with a German tradition in the 1500's of an egg-laying hare called "Osterhase" or "Oschter Haws".
After reading dozens of articles and historical documents, the start of the tradition still makes no sense to me! Eggs were forbidden during Lent so they were a treat to eat on Easter Sunday. There was a tradition in Germany to hide boiled eggs on Easter. The closest I could find as to how the hare delivered the eggs, was a story passed on through folklore.
When a woman hid colored eggs in the garden for her grandchildren to find, they saw a hare hopping away from them and thought the hare left them. The adults loved this idea and ran with it.
Now hundreds of years later, the idea is still running!
Who knows how it really started, but the tradition of the Easter hare caught on in Germany in the and has continued to spread ever since. He works much like Santa and brings children eggs, candies, chocolates (chocolate easter bunny's are also a German invention!) and sometimes toys – if they're on the nice list.
Hope you have a Happy Easter!