For the first time in a year, I've added added two new limited edtition prints to the shop.
Both of the new images come from paitnings in my monthly miniature series titled Creature Comforts and feature foods to brighten spirits in dark times.
My painting "Plums" featuring these golden orbs bursting with juice and flavor, along with one of my favorite visitors in the garden, Swallowtail butterflies. The bowl is from the collection of the Seattle Art Museum, where I worked as a mountmaker and made hundreds of mounts for the porcelain room. Though I was able to touch and document the lovely bowl, filling it with plums was all in my imagination.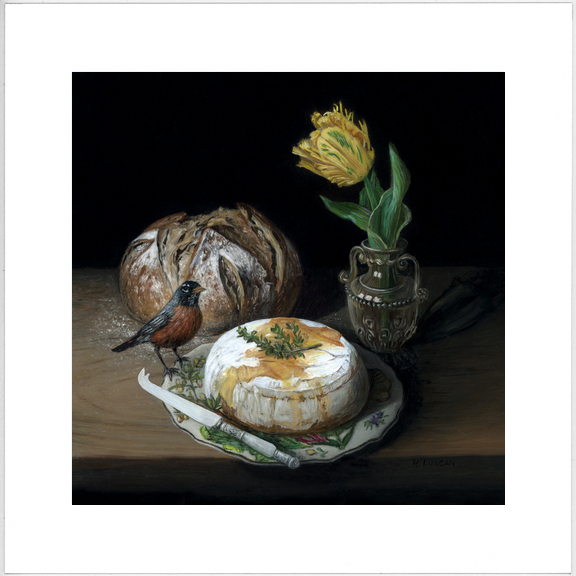 The second of the new limited edition prints on offer is one titled "Simple Pleasures".
Homemade bread has made a serious comeback over the last few years. I got a bit of a head start on the trend because I got a bread maker for Christmas just before the pandemic started. My husband is gluten-free so his intentions were a bit selfish but that's OK–I love baking! Fresh bread and warmed up brie is such a simple, yet perfect combination.
This painting was created during the month of April, while it was still cold outside but signs of spring were starting to appear. Robbins and tulips were putting on a beautiful show and I brought them from the garden to the table to help enjoy the simple feast.
I hope you enjoy these two new prints available in the shop, and if there's a painting you'd like to see offered as a print, let me know. I'm having two new prints added a year and will take your request into account when choosing the next pair to become available.