Sarah and her aunt commissioned me to make this pet portrait of Ruby as a gift for Sarah's parents. Sara is my husband's best friend, she was the "best man" in our wedding, and I absolutely adore her. I never got to meet Ruby but I've heard lots of stories about her. Though it's been years since she passed, she is still missed by those that knew her. I put a lot of care into each painting I make, but knowing the family personally, knowing firsthand how much Ruby was loved, really reinforces my mission of creating these paintings with a sensitivity to the bond between people and their animal friends. You can see the love that Ruby gave back to her family in her happy smiling face. I hope the painting brings them all much joy. Please take a look at my Pet portraits gallery to see more examples of my work.
A Painting More True to Life than a Photograph
This painting evokes Ruby's puppy-like zeal the way only an original painting can. Since it's painstakingly created layer by layer, I'm able to pay careful attention to all the details that make Ruby "Ruby". Sometimes these details even get missed by the camera. The main image I used for the portrait showed Ruby's eyes to be dark brown. But in the other images, and in everyone's memory, her eyes had a golden glow, which I worked to capture. Though I can sometimes get all of the information I need with just one image, working with several and getting lots of feedback is important to my process.
I had the added honor of witnessing the happy couple unwrap Ruby's portrait. People often write that seeing their portrait for the first time brought tears to their eyes, but seeing them both burst into happy tears was a special moment for me. See them below in a photo taken by Sarah, with the framed portrait of Ruby.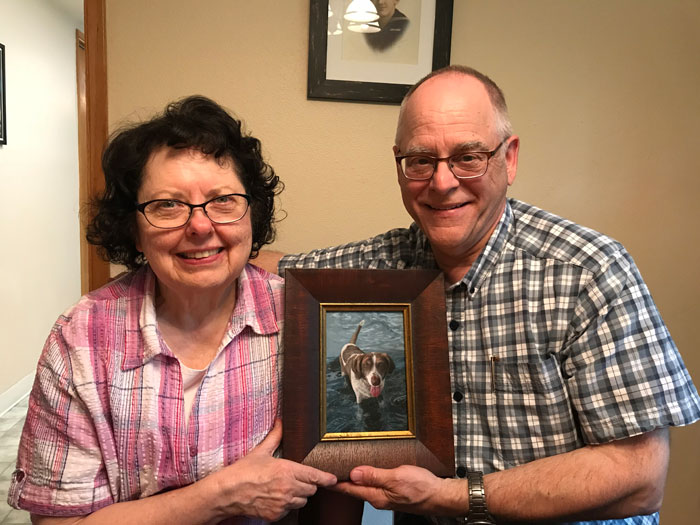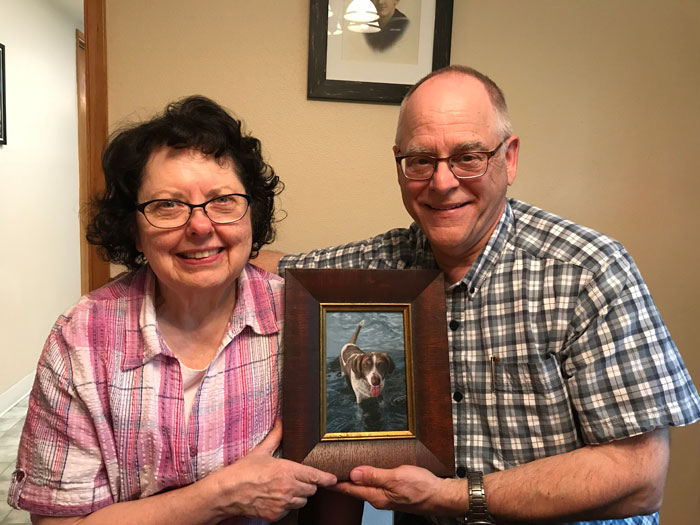 From the Family

You are a very talented artist and you captured the heart and spirit of our wonderful four-legged sweetheart, Ruby. We really love the painting. Thanks again, very much.

Doug, Gloria & Sarah