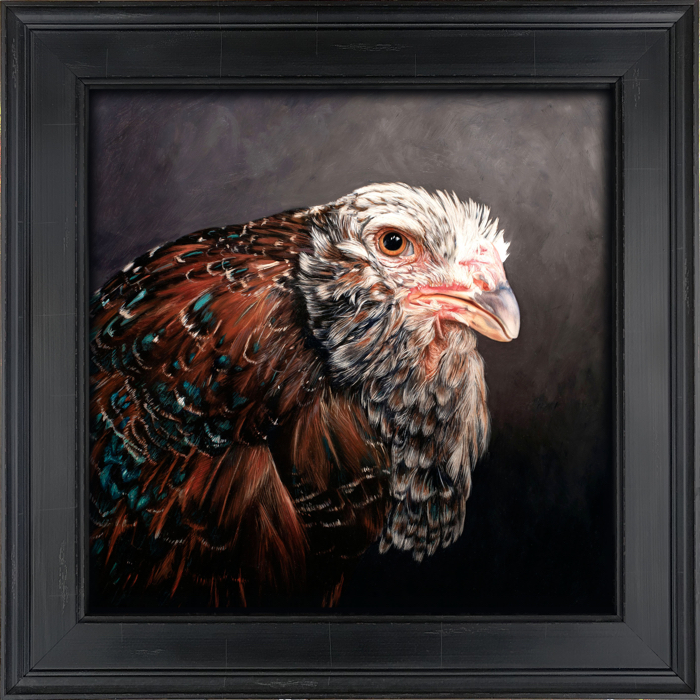 Hera
$2,800
Contact Childhood's End Gallery for inquiries
oil on aluminum
15″ x 15″
18.75″ x 18.75″ framed size
Shipping included in the US and Canada. Reduced shipping everywhere else.
---
About the Painting…
Part of the fun of making portraits of chickens is showing off the great variety that exists in the species. The Seattle area is very chicken friendly. It didn't take much searching to find this Russian Orloff who calmly pecked around in one of my friends backyards. She has four chickens and I've painted or drawn all of them.
She's got a pretty intimidating gaze but is very camera friendly. I love how proud she is of her beard, which she likes to tossed about. And her teal patches on her feathers memorized me with their jewel like appearance.
After staring at her, hour after hour while making her portrait, I gave her the name Hera. Her piercing gaze, while intimidating seemed to have a warmth that I don't see in many other chickens. The title of Hera, who is the Greek goddess of women, marriage, family and childbirth, felt right to me.
My work is influenced by paintings made during the Dutch Golden age. Like others in this series, I have given the painting a background that is inspired by one of Rembrandt's self-portraits.
---
Other available paintings from this series