Did you know angels walk among us? The model for my recent portrait miniature is proof. Leo's mother assured me he not only looks angelic but acts that way too.
My approach to collaboration sets me apart
Trying new ideas and embracing the collaborative element of creating a custom painting are fundamental to my creative process. Alexix and I live around 2,500 miles apart and unlike many portrait artists, I often use images provided by my client. Many portrait artists will not work with clients images. Retaining that element of control is a part of their process. While I do sometimes take reference photos of both people and animals for my pet portraits, I'm always open to the idea of using my clients images. There's something exciting about starting off the painting from the eyes of someone who truly knows and loves the subject.
Once I have images, the back and forth starts. I ask for as many images as possible then I see what inspires me. It's useful to get a sense of the personality of the subject and to get coloring right. I then make several mock-ups for my client to look at. Even if there's one particular image that stands out to me, I can make several variations by changing the background, contrast on the face and colors of the clothing. These details can completely alter the overall feel of the image. Then the client looks at the mock-ups and offers feedback or approval.
The Perfect Frame
In my first 19th century inspired mock-up of Leo, he wore a dark sweater and I used a simple frame. Alexix had two brilliant ideas: lighten the sweater to add to the angelic look, and go with a bold ornate frame.
We both started searching for the perfect frame online and she found this gorgeous gold sunburst one on Etsy. I made another mock-up of the paitning in this frame. It was perfect! She had the frame shipped straight to me. Once the portrait miniature was complete, he arrived in New York City, framed, wired and ready to install.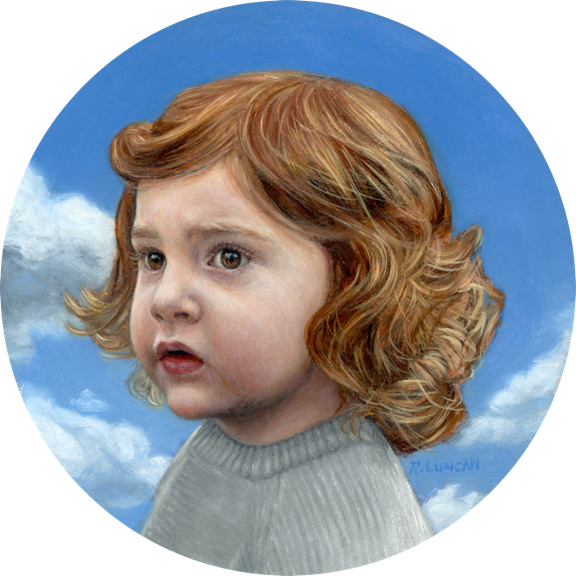 I truly believe that keeping myself open to new ideas makes for better paintings and ultimately, that's what I want to do. I want to make great paintings, not good paintings. Contact me to start working on a custom portrait of your very own.
Thank you Alexix for the opportunity to paint your lovely little boy and for such an exciting collaboration.
From Alexix:

Received and it's wonderful! I'm so excited to hang our little sun king in the house. Your work is exceptional!