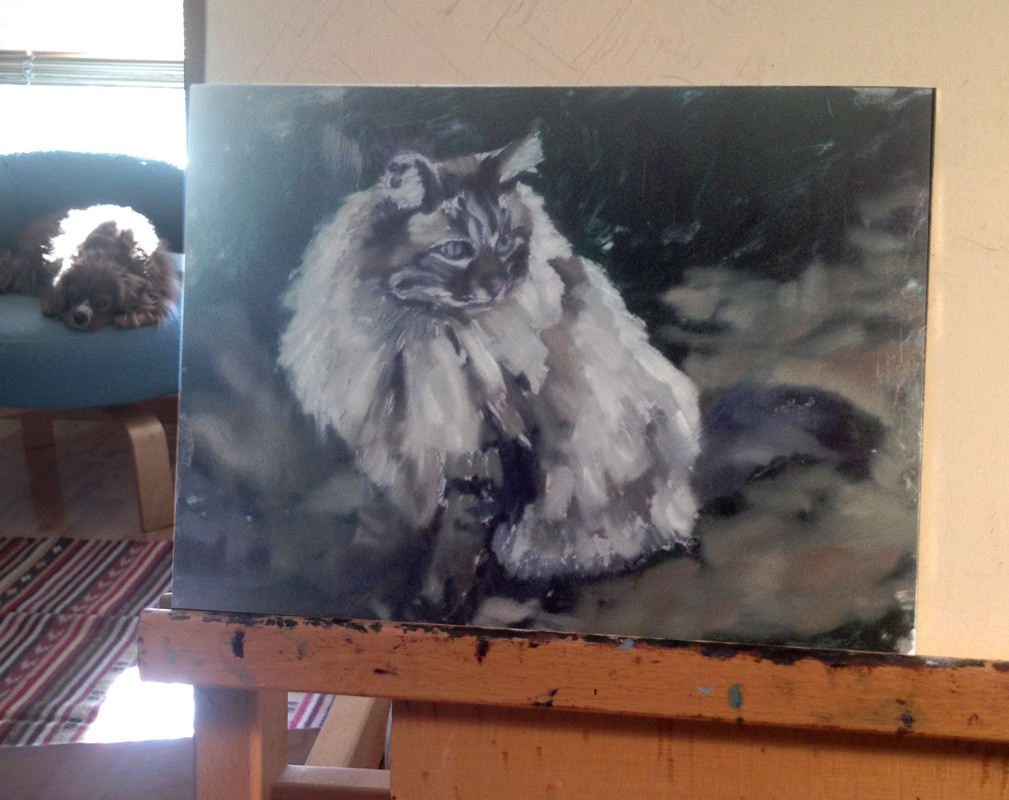 The pet portrait of Leo the cat is seen in the first stages of the underpainting, where you can catch a glimpse of my process.
I like to make quick, loose underpaintings on top of an underdrawing before I get fussy with details. Many people like to do monochromatic underpaintings (also called grisaille) but I prefer to use full color because it helps in balancing the composition. I blocked this painting out as seen above, but I often start painting with just black (mixed burnt umber and ultramarine blue), as in the Bride of Frankenstein Mismatched Portrait, then go back to block in the rest after it's dry.
Why do an underpainting?
First, it's helpful to figure out the composition quickly before too much time is spent adding details that may need to be changed later. Small alterations are part of the process, but this step can help prevent big changes later.
Second, having multiple layers of paint creates a depth and richness that is visible in the final painting.
And third, when done properly with a "fat over lean" technique, a lean underpainting can help prevent cracking in later years. A lean layer uses very little oil medium (though you can use artist's grade turpentine or similar) and typically uses paint colors that dry quickly. Because a lean layer has a high proportion of pigment granules per volume of oil binder, the paint film has a rough surface that allows subsequent layers to grab and stick more effectively. This lean layer is brittle on its own, but it is protected by subsequent 'fat' layers (lower pigment to oil ratio) that are more flexible and resistant to cracking, though they take longer to dry.
My Underpainting Palette
Oil paint colors dry at different rates and those that dry more quickly are ideal for use in the underpainting. For my underpainting, I typically use a Flake White Hue (a less toxic lead-free replacement to traditional Flake White), Cobalt Yellow, Venetian Red, Cobalt Blue, Ultramarine Blue, and Burnt Umber. Other quick drying colors are Cobalt Green, Manganese Blue, Prussian Blue, Manganese Violet, Raw Sienna and Burnt Sienna.
Have an underpainting palette you love? Please share in the comments!
Take a look at this wonderfully detailed conservation report of Jan Van Eyck's Margaret, the Artist's Wife. I love seeing the infrared reflectogram details showing how the underpainting was slightly different than the final painting. The Italians have given us a word for this phenomenon: pentimento.
Visit the Commissions page if you've ever considered commissioning a portrait of your own, and follow me on Instagram to see more images of paintings in-progress.