Coming in for a Landing

The last several months have brought so many unforeseen changes to each one of our lives. It's been disturbing in the best of circumstances and devastating in the worst. For this month's painting, I chose subjects that bring me peace.

The black-capped chickadee came to mind first. Of about five different species I watch splashing in the birdbath while I sip my morning tea, the chickadees are my most frequent visitor. They are also the only type of bird I've seen sharing the bath with another species.

The vase is another from the Porcelain Room at the Seattle Art Museum. In this gallery, the curator, Julie Emerson, filled each niche in the room with pieces related by color and theme; usually they're grouped by nationality, manufactory, or date. It was a pretty revolutionary idea, and it so clearly demonstrates our common search for perfection and beauty. My favorite niche is the green one. The color green simply makes me feel happy. Though I didn't get to make the mount for this vase like many of the other works I have painted, it gives a feeling of contentment.

The pears are from my own little pear tree. There's nothing like spending time harvesting in my garden for grounding me. It brings life, health and joy to my family and fills me with such gratitude for the bounty of nature.

I hope you enjoy this month's painting. I'm sending you as much strength to hang in there as I can. Embrace uncertainty and change because it's not over yet, but keep looking for the silver linings, and keep faith for better times to come.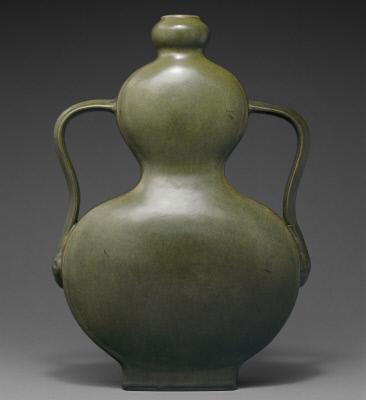 GOURD-SHAPED VASE
1736 – 95

From the Seattle Art Museum website: "This large flask-shaped vase features a special monochrome glaze that is poetically known as "tea-dust." In Qing dynasty texts it was referred to as "imperial kiln official glaze."

Hard paste porcelain, 19 x 15 (48.3 x 38.1 cm), Eugene Fuller Memorial Collection, 37.109
Photo: Paul Macapia