Breakfast for Two

I'm thoroughly conditioned to associate November with food. Though we had an unusual Thanksgiving, we did our best to maintain tradition. This year, for me, it felt more like a necessity than ever. I also felt the need to make a painting about not just what I'm thankful for, but also my hopes for the future. So this month's painting is full of bright colors, food and reminders of family.

I'm originally from Ohio, and my family still reside there, apart from a nephew in California. I was excited to bring a little of Ohio into this month's painting a male and female Cardinal, which is the state bird. Although they are common, I would never call them commonplace. Their color is extraordinary, especially when you find them on a snowy-white day, sitting on a bare branch.

My mom has a huge garden and chyrsanthemums are one of the few flowers still blooming at the beginning of November, though they disappear by the end of the month with the first snow of the season. I thought of mom especially when I added these 'mums. Though I haven't been back for Thanksgiving for many years, I have seen my mom and step-dad at least once a year since I moved out here around twenty years ago. Until this year. I am hoping for a future when we can visit again, and where the world my son grows up in is a little closer to the one where I grew up. I think one thing that people across the globe will all soon have in common (at least for a little while) is not taking the time we have with friends and family for granted.

The plate pictured from the Seattle Art Museum is one of my favorite pieces in the Porcelain room, and I've been hoping to figure out a composition I could fit it into. It is so cheerful and bright and makes me smile to look at it. When I was thinking of it, I had it in my mind that it was Japanese, but it's actually a perfect example of chinoiserie. Chinoiserie is the European interoperation and imitation of Chinese and other East Asian artistic traditions. The porcelain is English and was made in the late 18th century.

I hope you made the most of your Thanksgiving holiday! Although we put off our feast a day to make cooking easier, we made up for it with waffles for breakfast (they're a favorite around here, but you probably noticed that already). We had an intimate Thanksgiving dinner celebration with just my husband, four year old son and myself. We made far too much food and got all dressed up. Isaac had a blast. We did end up cooking a turkey, despite shortages of the smaller birds, but I don't know how much longer my son will partake; we might have a budding vegetarian on our hands:

Isaac: "Where's the turkeys head?"
Me: "Well they cut it off when they killed it."
Isaac: "They killed the turkey?! Did they go to jail?!"

Thanks so much for continuing to follow my work! All my best to you and yours for the holiday season.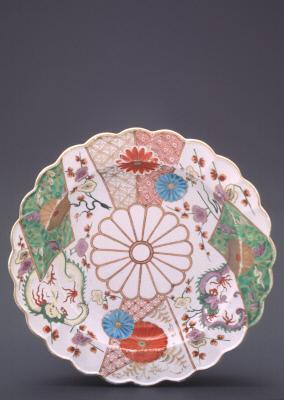 Plate
CA. 1772-75, ENGLISH, WORCESTER

Collection of the Seattle Art Museum, on view in the Porcelain Room Gallery

Soft paste porcelain, Diam.: 8 1/4 in., Kenneth and Priscilla Klepser Porcelain Collection, 94.103.79
Provenance:[Mr T. Leonard Crow, Tewkesbury, England, 1948]; sold to Mr and Mrs Kenneth and Priscilla Klepser, 1948-1994 (cf. Mr Crow's letter dated March 6, 1948 to Mr Klepser); gift from Mr and Mrs Kenneth and Priscilla Klepser to Seattle Art Museum, Washington, 1994