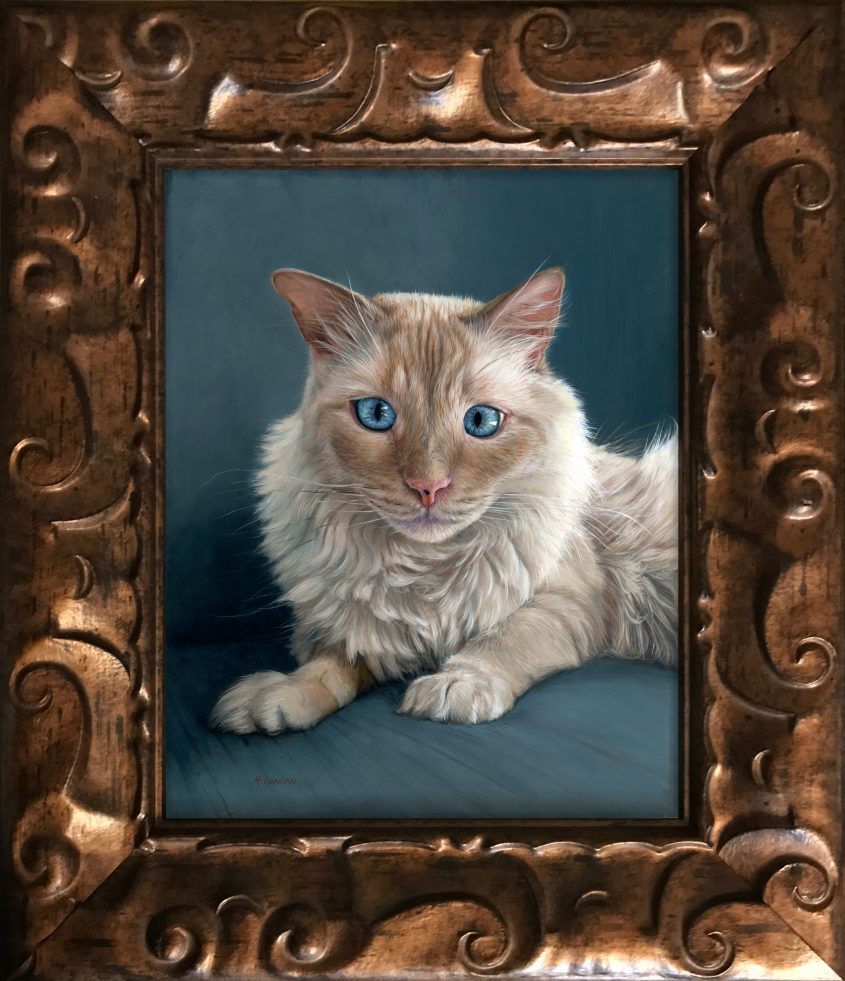 I'm in love with the subject for my latest pet portrait commission. Harrison is a flame point rag doll Siamese and those eyes!! Harrison is 10″ x 8″ and is made with oil on aluminum.
During my tiny thanksgiving gathering we talked about things we were grateful for. My clients that commission me to paint their beautiful furry friends came just after friends and family. Thank you. ❤️
I worked as a picture framer during my college years and have continued to frame my own work since then. I frame most of my clients commissioned works and for Harrisons portrait we choose this georgeous bronze colored carved frame. My client has synesthesia and she loved this frame in particular because the swirls looked like how Harrison's meows sound. Sounds like a pretty incredible experience with the world.
From Melissa:

Ahhhh!!! It's BEAUTIFUL! I feel like you totally and perfectly captured his essence. It's wonderful! I love how the background brings out his eyes and various fur colors and textures. His little nose is so cute!! And he looks so fluffy!

Thank you so much!!!
Traditional Techniques: Layer by Layer
I made a short video that shows how my paintings evolve, using the time tested technique of "lean to fat". The first layer starts with big shapes and paint thinned with odorless mineral spirits (Gamsol). This is the lean layer. For the oil, I use Galkyd slow dry painting medium. As the detail increases with each layer, so does the oil content added to my paint mixture. By working in this way, the paint has ideal conditions to adhere to its substrate. It also ensures that the bottom layers of paint will dry more quickly than the top layers which prevents cracking in the future. I also find that this technique gives painting a luminocity and depth that is essential for capturing fluffy fur and pearlecent eyes.

If you're interested in a pet portrait of your own, please visit my commission page to lean more.