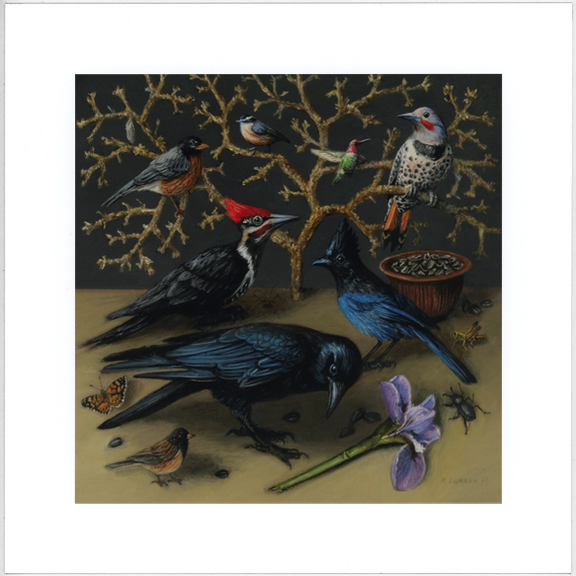 Birds of the Pacific Northwest
$55.00
6″ x 6″ image size, 8″ x 8″ paper size
Printed on high quality acid-free Hahnemuhle Fine Art Pearl paper
Signed and numbered limited edition of 50
Comes with Certificate of Authenticity signed by the artist
---
About the Painting…
This artwork pays homage to the painter George Flegel. He was born in what is modern day Czech Republic and did his training in Austria and Germany but ended up in Holland in the early 1600's. His strange compositions, bursting with life are a study of technical perfection. Between looking at his paintings, and having a Stellar's Jay nest in the eaves right outside my bedroom window, birds have been on my mind lately.
The original painting is 5″ x 5″ and it includes 8 birds I've found in my backyard; American Crow, American Robin, Anna's Hummingbird, Dark-Eyed Junko (Oregon), Northern Flicker, Plaited Woodpecker, Red-Breasted Nuthatch and a Stellar's Jay. Insects are: Darkling Beetle, Painted Lady Cocoon and Butterfly, Grasshopper, and a Pholcid House Spider (also called a daddy long-legs). Also included: black sunflower seeds and a Blue Flag Iris.
I hope you enjoy this painting as well as your own backyard birds! Go to my Monthly Miniatures page to see all of the paintings in this series. And join my mailing list for a Monthly Miniature Preview, to get a chance to purchase the original before before they go for sale on the website, and to see what's new in the studio.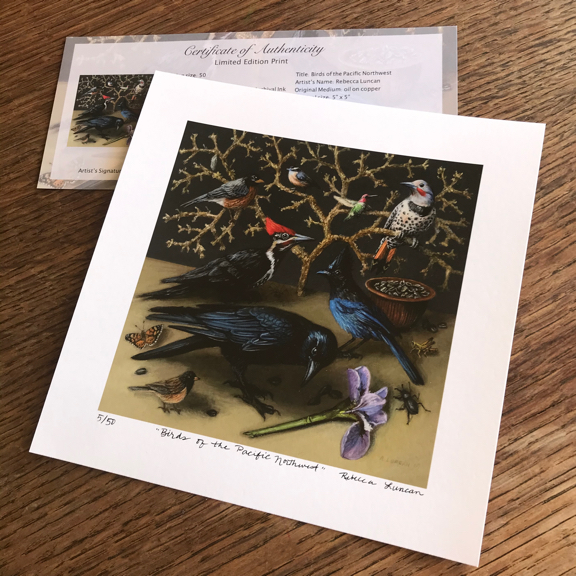 ---
Other available artwork