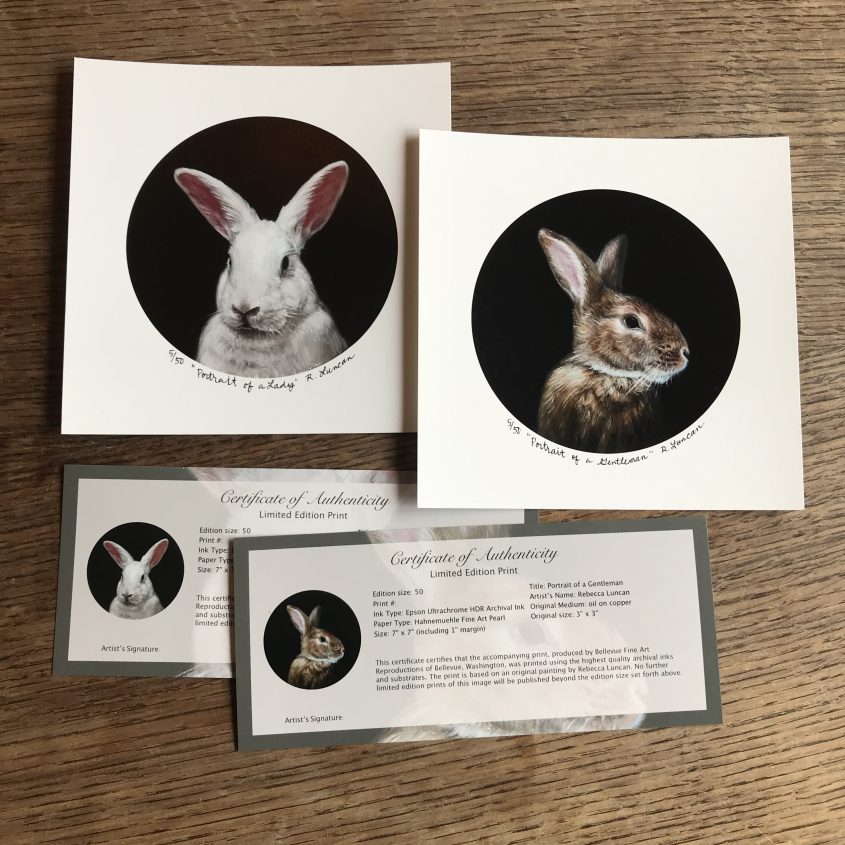 Portrait of a Lady & Portrait of a Gentelman
$80 as set or $45 each
5″ x 5″ image size, 7″ x 7″ paper size
Printed on high quality acid-free Hahnemuhle Fine Art Pearl paper
Signed and numbered limited edition of 50
Each print comes with Certificate of Authenticity signed by the artist
Shipping included in the US and Canada. Reduced shipping everywhere else.
---
About the Paintings…
Living with animals means forming unusual patterns of communication and quite powerful loving bonds. These two bunnies reside in my painting studio and we've become quite good friends. I've made many paintings of them over the past several years, some silly and some serious. These two paintings take the prize for the most formal in the bunch, however, yet these portraits are also as serious and silly as the rabbits they portray.
17th century Dutch portraits heavily influenced how I composed these portraits. Vermeer's, "Girl with a Pearl Earring" is a prime example of this type of painting. My fascination for this genre can also be seen in my Into the Country monthly miniatures, created at the same time as these two.
The paintings explore our relationships with animals and their relationships with each other. I've spent most of my career painting portraits of people and my portraits of rabbits reflect that. There is an irony in a formal portrait painting of a rabbit because relationships between animals are seen as less legitimate than between humans. And more so this diptych since it anthropomorphizes the bond between this pair. Yet these two rabbits did dearly love each other and the feeling that an animal is "part of the family" is certainty not uncommon. So beyond being both silly and serious, they also feel at once ironic and genuine.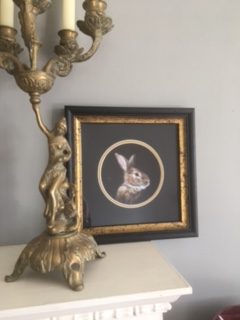 ---
Other available artwork