When I started this painting back at the beginning of May, Italy was often in my thoughts with its explosion of COVID-19 casualties. Having spent a little time in Italy, it felt especially devastating because it struck me as a place so full of life, beauty and passion. This painting became my homage to Italy during a time of so much suffering, to remember the Italy I had known and to wish for it's speedy recovery.
I chose two porcelains that seemed to speak to one another, each made in the Capodimonte porcelain manufactory Real Fabbrica di Capodimonte, operating in Naples Italy, 1743 to 1759. One features the two men playing cards in the sunshine, and the other a playful figurine of Columbine, a saucy and clever character of comedic Italian theater.
At times I felt like I was going to make myself go blind with some of the tiny details in this piece, but my quilting magnifying glass was a life saver—I can almost see numbers on the cards! These two objects are part of the Seattle Art Museum's collection, and both can be seen in the Porcelain Room when the museum reopens. Links to the objects on the SAM website can be found below.
I wanted the painting to burst with the same life and passion I felt in Italy. My son and I cut a rainbow of blossoms from the garden, including the beautiful namesakes of Columbine. I count my blessings every day, and am thankful for my little pocket of paradise I have been so fortunate to be able to build.
DISCOVERING THE CAPODIMONTE PORCELAIN MANUFACTORY
For over a year I helped create mounts for the Seattle Art Museum's porcelain room and learned about how Europeans were obsessed with learning the secrets of how the "white gold" was produced. With over a thousand objects in the one room, I completely overlooked the Capodimonte pieces. It wasn't until recently that I learned about porcelain from this region when SAM hosted the exhibition, Flesh and Blood, Italian Masterpieces from the Capodimonte Museum. The exhibition had little to offer in the manner of porcelains, but it was a feast for the eyes for a painter. I studied many of the pieces in the exhibition while in college (I even wrote an essays on one of them!), and it was such a privilege to see them in person. This led me to research the Capodimonte collection, and as it turned out searches for Capodimonte turn up not paintings but porcelains.
The factory was founded by King Charles and his wife Queen Maria Amalia Valpurga, who was the granddaughter of Augustus the Strong, the founder of the Meissen factory and one of the earliest champions of European porcelain. They recruited chemists, painters and sculptors to work at the factory. One of the biggest challenges in creating porcelains in southern Italy was that kaolin, a type of clay considered essential to porcelain, was in short supply. By experimenting with different combinations of clay, they developed a unique recipe that resulted in a warm white tone, bringing a distinctive appearance to the works from the Capodimonte factory. The factory was in operation a short time, between 1743 and 1759. In 1759 Charles inherited the Spanish throne, and when he left, the entire factory went with him to Madrid, becoming the Real Fábrica del Buen Retiro.
Though the Capodimonte manufactory did create pieces in a chinoiserie style (the European interpretation and imitation of Chinese and East Asian artistic traditions), I was struck at how very Itallian these two pieces felt to me. The attire, setting and even the poses of the figures were likely taken from direct studies taken from life in the region. I remember when I was making mounts many years ago and being particularly fascinated by the chinoiserie style. It felt a bit clumsy and seemed just a bit off in what I found to be a very interesting way. These clearly European pieces felt too fussy in contrast. Now here I am, years later, learning everything I can about Capodimonte porcelain.
Visit my Monthly Miniature page to see all of the paintings in this series.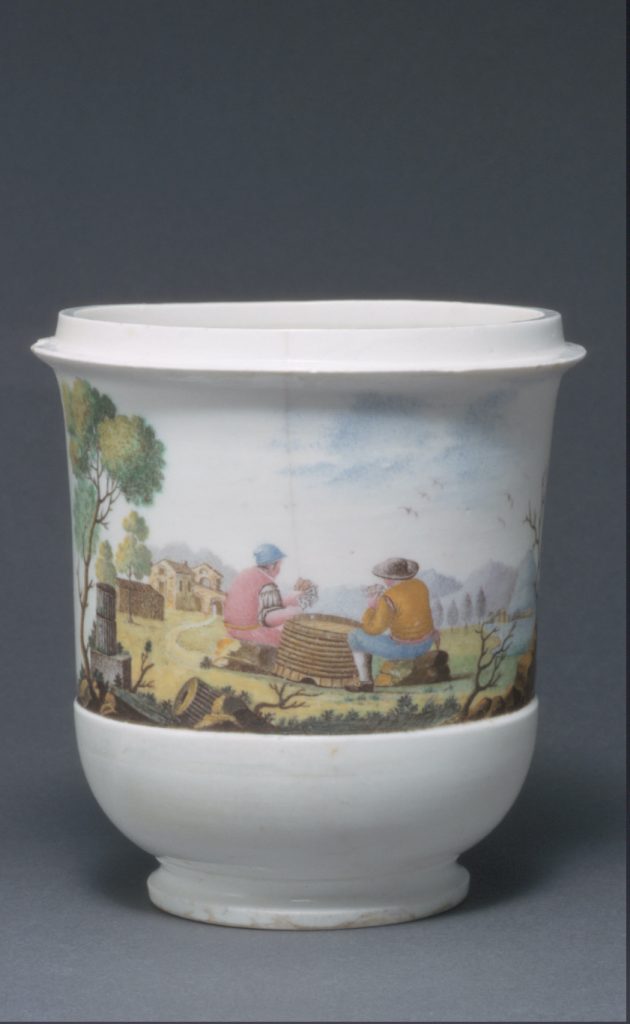 URN-SHAPED JAR 1750-57
CAPODIMONTE MANUFACTORY, ITALIAN
Soft paste porcelain, 6 1/4 in. (16 cm), height, Dorothy Condon Falknor Collection of European Ceramics
Photo: Paul Macapia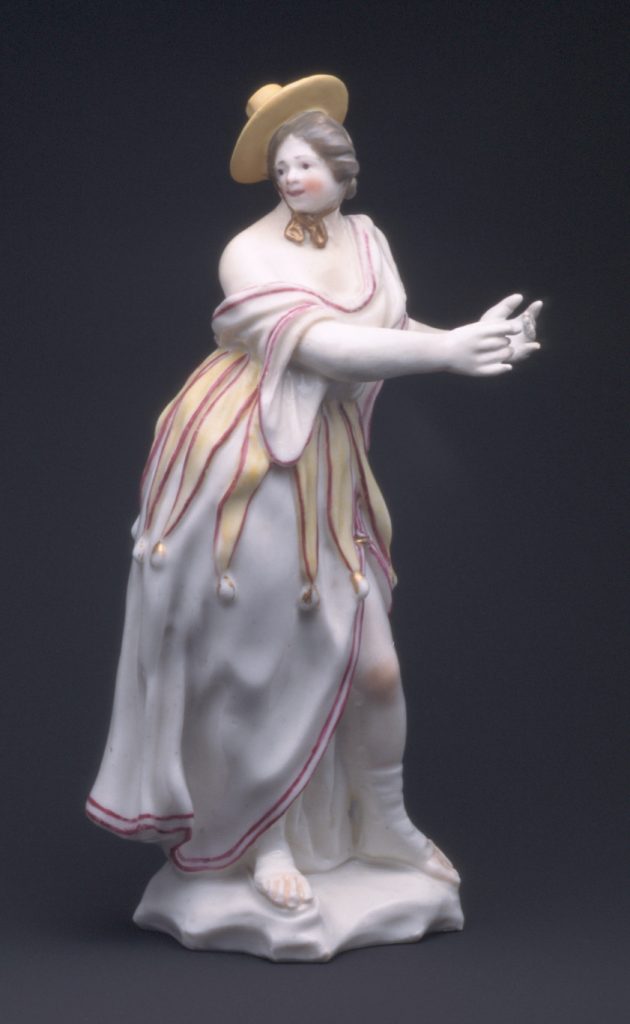 COLUMBINE 1750 CAPODIMONTE MANUFACTORY, ITALIANThis figure represents a character from Commedia dell'arte, the farcical Italian theatre. The character of the servant Columbine is witty, bright, and full of intrigue. She is often depicted dancing.
Soft paste porcelain, 6 in. (15.2 cm), height, Dorothy Condon Falknor Collection of European Ceramics
Photo: Paul Macapia
More Images of "Capodimonte", oil on aluminum, 4.5″ x 5.5"