For this latest monthly miniature, I knew I wanted to make a camellia painting. One of the few blooms you can find here in the PNW in winter months, their stunning color helps brighten my mood with our grey winter skies.

Over the course of the last few years, I've studied hundreds of still life paintings made in Northern Europe from the mid 1500's through the late 1800's. It's fascinating to see how one artist influenced the work of another, and then another, often from parent to child.
Inspiration by female artists from the Past
German artist Maria Sibylla Merian is one of my favorites. She was trained by her step-father Jacob Marrel; the influence he left on her work is apparent, but it was merely a springboard for the work she accomplished in her lifetime. When thinking through the composition for this camellia painting, I immediately thought of her work and that of another female artist, Barbara Regina Dietzsch.
These two women were born almost almost 60 years apart, but I suspect something in the work of Merian informed the work of Dietzsch. Merian is known for her etching and engraving, while Dietzsch composed her work similarly but used gouache and watercolor. In this way, Dietzsch created dark and rich backgrounds that lift the subject off the page.
Now here I am, hundreds of years later, looking at their works and trying to learn as much as I can about technique and composition. But I am also trying to get a grasp on just what it is that fascinates me in this work, and how it can inform my own work, just as the long chain of artists before me have done.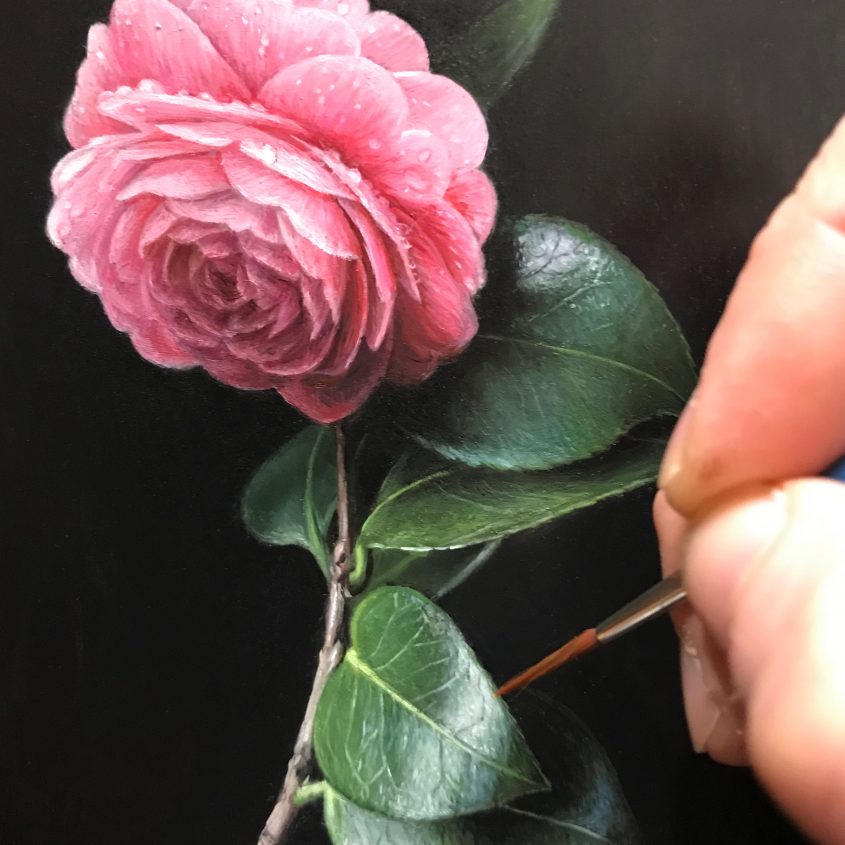 I hope you enjoy this new painting, and if you're a fan of scientific illustrations, you should take a peek at Maria Sibylla Merian's book, Metamorphosis insectorum Surinamensium. The book was originally published in 1705 and it's been beautifully reprinted recently.