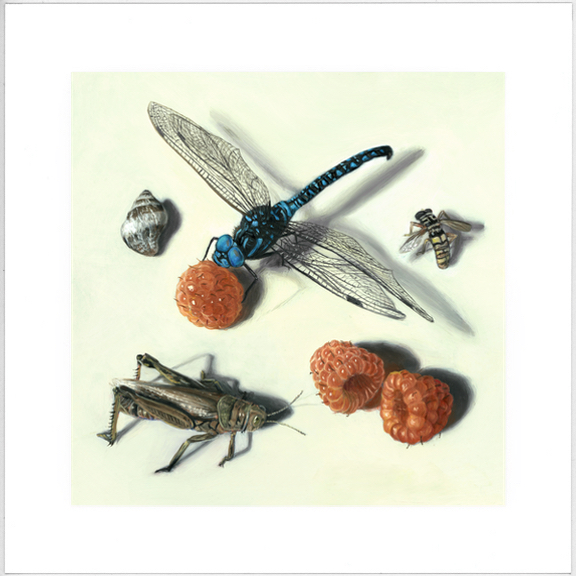 Anita's Insects, Limited Edition Print
$55.00
6″ x 6″ image size, 8″ x 8″ paper size
Printed on high quality acid-free Hahnemuhle Fine Art Pearl paper
Signed and numbered limited edition of 50
Comes with Certificate of Authenticity signed by the artist
Shipping included in the US and Canada. Reduced shipping everywhere else.
---
About the Painting…
In art school I was known as the "bug girl" because almost all of my painting had insects in them. Insects were a huge inspiration, and though they are no longer the primary focus on my work, they have continued to appear in my paintings throughout the years. I find that the closer that I look at the insect I'm painting, the more I feel a sense of empathy for it. I imagine a personality in there, and wonder about the history of it's life.
My insect collection has been with me since my art school days. Some of my insects were gifts from Cincinnati Zoo entomologists, while others I sought out myself. I learned to pin insects from a friend I met at the frame shop where I used to work.
Anita's Insects
The insect specimens in this painting are from a very special part of my collection. These creatures came from three prized boxes put together by photographer Anita Douthat when she was a girl in Northern Kentucky. I knew Anita through her husband Cal Kowal, who was my photography teacher at the Art Academy of Cincinnati.
Still life paintings can tell a secret story through the symbolism of their elements. These pale raspberries grow in my garden and are symbols of kindness. The shell came from my husband's pocket (he's always collecting shells and rocks on his adventures) and are a symbol of birth and fortune. Insects are all around us, yet their forms, life cycles, and social structures couldn't be more different than our own. Dragonflies symbolize change, and grasshoppers luck. Bees have had close ties with humanity and throughout the ages have variously stood for power, love, and industry. All of these types of insects can be found in the Northern Kentucky region where my models were originally collected over forty years ago (I exaggerated the blue in the dragonfly which was quite faded).
This painting is 5″ x 5″, oil on copper. Go to the Monthly Miniature page to see more of the paintings from the series, In Season.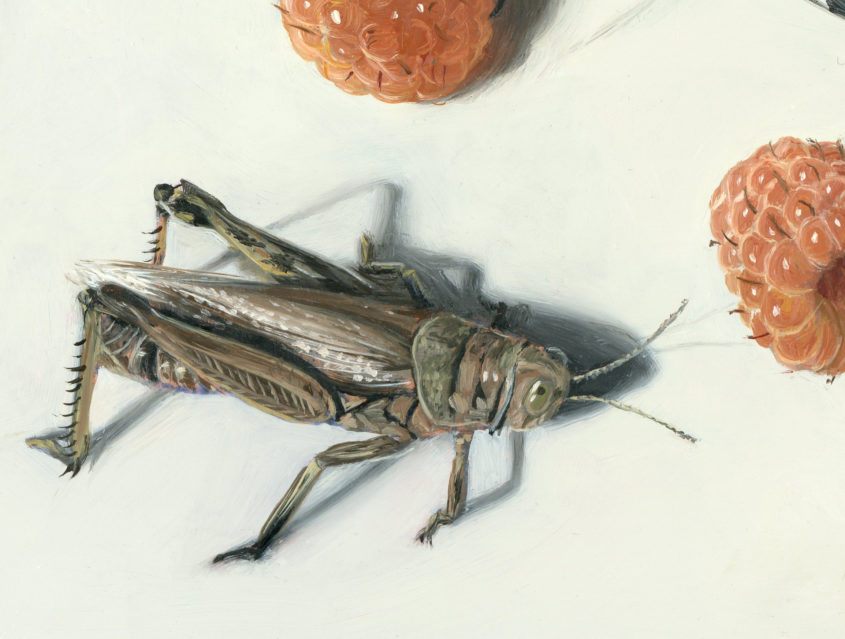 ---
Other available artwork