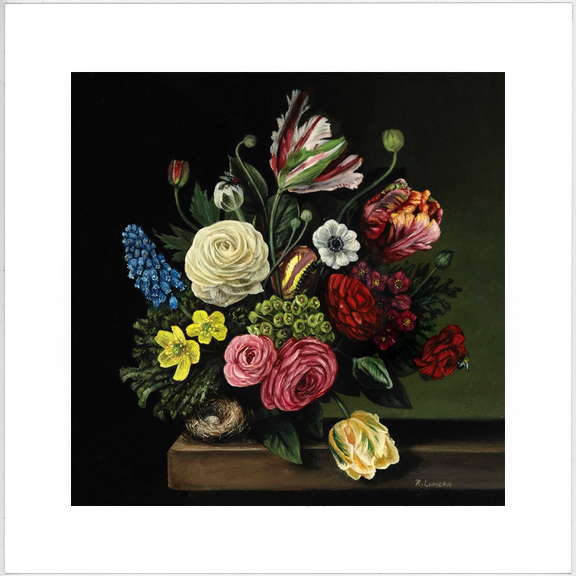 Flowers, Bird's Nest and Insects, Limited Edition Print
$55.00
6″ x 6″ image size, 8″ x 8″ paper size
Printed on high quality acid-free Hahnemuhle Fine Art Pearl paper
Signed and numbered limited edition of 50
Comes with Certificate of Authenticity signed by the artist
Shipping included in the US and Canada. Reduced shipping everywhere else.
---
About the Painting…
I'm generally drawn to simple compositions, but I wanted to go in a different direction with this painting. For each painting in the "In Season" series in which this painting was a part of, I chose the subjects of each one to highlight what was currently in season. It came naturally to also think of creating a mood that is reflecting the sparsity or abundance of things available. This one was painted in April, at the beginning of spring it felt so freeing to have so many things to choose.
My plants came from a variety of places; friends, Pike Place Market, and from my own garden. I also found The Seattle Growers Market to be a great resource, with public hours on Fridays, 10 am – noon. I put everything together and worked out the final composition from photos I took on the computer (Pixelmator for Mac). I posed as much as I could in a Frankenstein taped up heap to reference from life but used my digital mock up as a primary reference for plants. I did paint two things from life: the birds nest and the caterpillar. The birds nest with egg we found abandoned in the back yard a few years ago. And the caterpillar was wiggling around in a container with some friends that my three year old son had received for his birthday. (I photographed the butterflies and they posed for the next painting in the series!)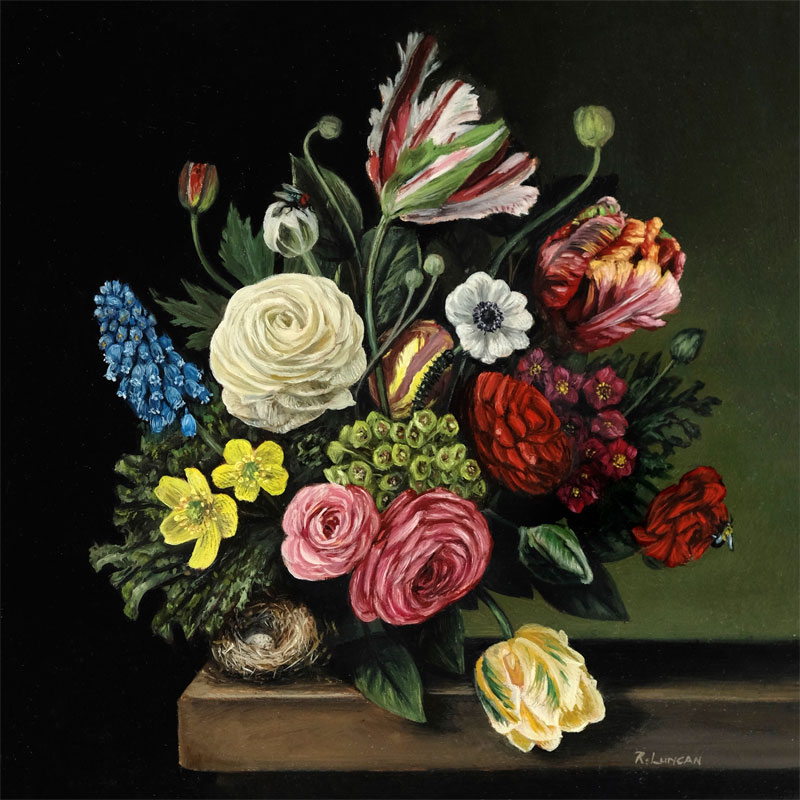 What's in this painting?
Birds and Insects:
Bumblebee
Housefly
Painted Lady Caterpillar
Dark-Eyed Oregon Junco nest and egg
Plants:
Anemones – white and yellow
Euphorbia
Grape Hyacinths
Kale
Ranunculus – red, white and pink
Salal (leaves)
Tulips – rainbow parrot, flaming white parrot, Absalom, mint green parrots
Choosing your frame
Once your piece arrives, you get to use your own creativity and choose how you will display it. Whether you have a contemporary, traditional or anything in-between style, there are many options. If you have questions or would like advice, feel free to reach out. I'm happy to help.
Keep scrollong for inspiration from a client that as generously shared images of her selection.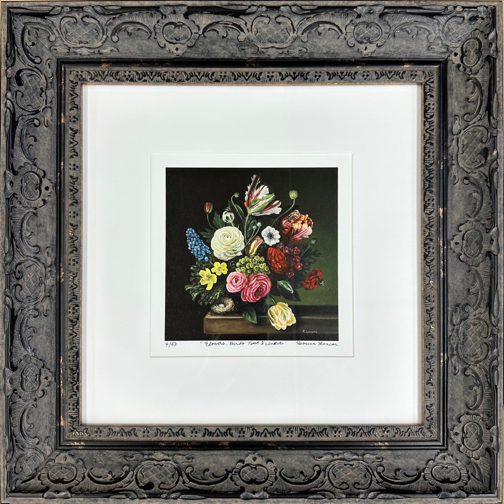 ---
Other available artwork