Duel Over Porcelain
I'm excited to share my first 2020 Monthly Miniature and announce the new "Flight of Fancy" series. I hadn't done a still life painting for more than 15 years until last year's series, so studying the Dutch masters for insight into the genre was crucial to that project's success. This year I will continue in the spirit of Dutch still life and featuring birds together with items from the Seattle Art Museum collection, with which I've worked for the last 13 years. It's too early for me to understand how the two relate to each other over a series of twelve, but that is the fun of the monthly miniature, to see where the journey takes me.

Inspiration From SAM
The first featured Seattle Art Museum object is a Square Serving Dish. It's one of my favorite pieces in the collection, and I feel it's the perfect piece to open the New Year and the new body of work. The piece gives me contrasting feelings of chaos and grace, yet feels so perfectly balanced. I have installed this piece numerous times, including twice in Japan. Most recently, I helped install it at the Asian Art Museum, scheduled to reopen February 8th after a recent renovation and expansion.
Pacific Northwest Gardens and Birds
If you live in the Pacific Northwest, you are likely familiar with the Anna's Hummingbird. I used to have 6 hummingbird feeders all around my house, and at any time of day I could see an Anna's feeding from some window or another. Once feeders are up in winter, though, Hummingbirds become dependent on the feeders for the season; after one very cold winter of continually defrosting a feeder for several weeks, I have given up the practice. Instead, I have filled the garden with plants that will feed them through the winter, including an Oregon grape outside my bedroom. I love waking and going to the window to watch these territorial birds feed from the yellow blossoms. My Oregon grape has become huge over the years, but that doesn't mean anyone is willing to share.

Along with a sprig of Oregon grape in this month's painting are Yuzu lemons my friend Hiromi let me pick from her tree in Seattle. (I also used these fragrant lemons in last month's painting.) The beauty of these two plants comes at a price though. Both the Yuzu and the Oregon grape demand careful attention when you're near them as they hide painful spikes. And yes, both these plants are also in season, a theme I enjoyed from the last series and will continue.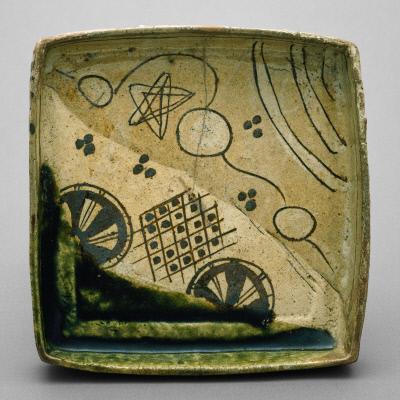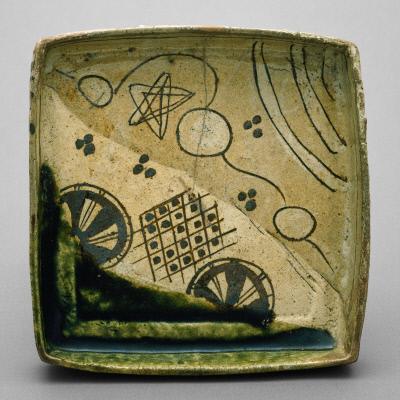 SQUARE SERVING DISH
Edo period (1603–1868), Japanese, Stoneware with underglaze decoration, 1 7/8 x 7 3/4 in.
Collection of The Seattle Art Museum
Photo: Paul Macapia
Written by Hattie Branch, Blakemore Intern for Japanese Art:

"Employing vivid colors and energetic, abstract designs, Oribe ware is the most dynamic type of Japanese tea ware. The style takes its name from Furuta Oribe, 1591-1615, the great tea master of his age. Designed for use in the meal accompanying the tea ceremony, a square dish like this would be used to serve fish, slowly revealing the image beneath as the meal was eaten. Oribe ware, as this tray excellently represents, broke with a tradition of elegant restraint to embrace an unprecedented level of vivacity.
This tray is meant to depict water, earth, and sky. We read it from bottom to top:
Starting in the lower left corner, the tray was dipped into a green glaze which visibly pooled during the firing process, evoking water.

Moving upward, a pink-tan band provides a bed for two semi-circles with radiating patterns. This common decorative motif represents ox cart wheels soaking in water—wooden cart wheels needed to be soaked regularly to prevent warping. Between the two wheels, the pattern of squares and dots could represent a piece of dyed fabric. These are colors, images and activities associated with the earth.
The upper-most, tan portion encompasses a single large star, surrounded by three circles with trailing tails, likely comets. In the upper right corner, three arcing stripes abstractly render the long trailing clouds popular in Japanese painting. This band depicts the sky.
The ebullience that makes Oribe ware stand out amid tea ceramics reflects both the power and dynamism of the Momoyama Era (1573-1615), and, amidst political and social upheaval, a move to rebel against previous aesthetic rules, and the power structures they represented."
I hope you enjoy the new Flight of Fancy series!
How to Purchase
Subscribe to my newsletter to get an email when each Monthly Miniature is finished and the chance to purchase the latest painting. I usually announce when the newest painting will be released for sale on Instagram and Facebook within 24 hours before sending the newsletter.