Spring Flowers, oil on copper, 5.5″ x 4.5″
Finally! My March spring flowers still-life painting was a bit late. After we suffered nasty bout of illness in early March, followed by the challenging transition to working-and-schooling from home, we've finally figured out my new painting schedule.

Being sick while caring for a 4-year-old was really difficult. My husband and I were both sick for most of March, and we took turns resting while we did our best to keep Isaac fed and out of trouble. I have never been so thankful for the sunshine and spring flowers.
The flowers for this spring flower still-life painting came straight from my backyard garden. I had to include daffodils, since they are the subject of my favorite poem (included below) and one of the first of my flowers to come in bloom. I have always told Isaac that daffodils are his special flower, since they were in bloom when he was born.

I wanted bold, bright colors to remind me that despite the unsettling news and unknowns in the world, spring is here, just like it is every year. The smaller blooms felt like the perfect companions for the strong and dramatic daffodils. These red and blue flowers come from my red flowering currant and Jack Frost plant. The red-breasted Nuthatch seemed to follow me around as I gathered my bouquet, and I decided he was as thankful for spring as I am.

The beautiful glass vase in the Seattle Art Museum collection is just the same bold yellow of a daffodil. It looks as if it could have been made by a contemporary Seattle glass artist, but it was was actually made in China sometime the 1700's! Read below for more information on this piece featured from the SAM collection.

I hope you're all staying healthy out there. If you feel sick, reach out and don't be afraid. Despite the isolation, it's been incredible to see how people have been coming together and supporting each other in unexpected new ways. Thank you to everyone who brought us groceries when were were quarantined, and for all the well wishes. Now if you can, go enjoy the sunshine, the flowers, and your own lovely company!
Got to my Monthly Miniatures page to see all of the paintings I've made for the series. And sign up for my newsletter for a first glimpse of the newest painting and for updates from the studio.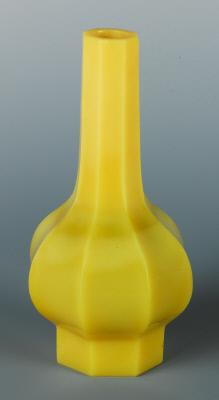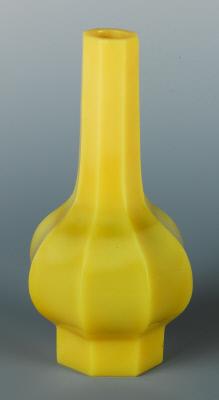 FLUTED VASE
Collection of the Seattle Art Museum (not currently on view)
1736-1795
Chinese
Glass, 6 × 2 1/8 in. (15.2 × 5.4cm), Gift of the Estate of Robert M. Shields
Photo: Elizabeth Mann
From the Seattle Art Museum website:
"This fluted yellow vase inscribed with the Qianlong emperor reign mark characterizes high-quality glassware of the imperial workshop in the Forbidden City during the 18th century.

Although glass was used in China as early as the Western Zhou period (ca. 1046-1771 B.C.), the technology developed slowly and intermittently. It was used primarily in accessories, e.g. beads or imitations of jades. As a medium, it was overshadowed by (and often imitated) porcelains: a 12th century glass dish from the Thomas D. Stimson Collection (47.152) is one such example. To some extent, this current piece was also inspired by a ceramic form (Song-dynasty vases of Ge/Guan ware), although the main catalyst for glass production in the Qing palace came from the Jesuits, who also served as artists and scientists in the court. It was through them that the Qing court re-discovered the beauty of glass. Octagonal, fluted glass vases featuring diverse colors were a common form. This type of vases was first made during the Yongzheng period (1723-35), and became popular – and thicker – during the Qianlong period, when this piece was made. According to the Archives of the Department of Imperial Household, this type of glass was given to high-ranking Tibetan monks. As such, their function extended beyond to serving as imperial playthings.

Robert Shields may have been known as "one of the Grand Old Men in Northwest architecture" (Pacific Northwest Magazine), but it is his enduring passion for art that leaves a lasting legacy at SAM. When Mr Shields passed away in the summer of 2012, he left his entire estate to the Seattle Art Museum, its value to be used in support of the Asian art program."
I Wandered Lonely as a Cloud
by William Wordsworth
I wandered lonely as a cloud
That floats on high o'er vales and hills,
When all at once I saw a crowd,
A host of golden daffodils;
Beside the lake, beneath the trees,
Fluttering and dancing in the breeze.
Continuous as the stars that shine
and twinkle on the Milky Way,
They stretched in never-ending line
along the margin of a bay:
Ten thousand saw I at a glance,
tossing their heads in sprightly dance.
The waves beside them danced; but they
Out-did the sparkling waves in glee:
A poet could not but be gay,
in such a jocund company:
I gazed—and gazed—but little thought
what wealth the show to me had brought:
For oft, when on my couch I lie
In vacant or in pensive mood,
They flash upon that inward eye
Which is the bliss of solitude;
And then my heart with pleasure fills,
And dances with the daffodils.