The Western Chamber
This February I wanted some romantic imagery. This 18th century bowl with its imagery of lovers in a moonlit garden was just what I was looking for. You see a poor scholar, beckoning the aristocratic beauty he has fallen in love with, who is just behind a high wall with her maid. This story, "[Romance of] The Western Chamber," was originally written as a tragedy, but was later altered to have a happy ending. The happy version seems to dominate and there's no hint of tragedy in the synopsis written by the Beijing Tourism Bureau.

These little oranges are currently in season, and I loved the eye catching combination of the contrasting orange and blue. As I dreamed up this painting, I always imagined it with a parrot, never any other bird. I've had a fondness for parrots ever since my dad came back from Florida with a parrot named Charlie, when I was around 8 years old. I don't know how my mom felt about it, but that was my dad. (My sister could tell you stories about bringing a baby cow home in the back of our station wagon.) Scroll down for a picture of little Rebecca petting Charlie.

Part of the fun of making still life paintings is to research historical symbolism and dream up my own hidden stories. Many objects have several meanings so the story can differ depending on who's doing the dreaming. In this case, an uncaged bird symbolizes sexual freedom, and parrots specifically represent nobility, richness and self confidence. Oranges can represent abundance, longevity and beauty.

Everything was becoming a bit too sweet and easy for the lovers, so I added a fly to bring them back down to reality. I appreciate the description by Steven Connor in his article "The Painter and the Fly", describing flies in art as the "embodiments of accident, of what just happens to happen". And if you want to see how symbolism can be scrutinized by scholars, take a look his article which discusses the fly in art over the course of 500 years.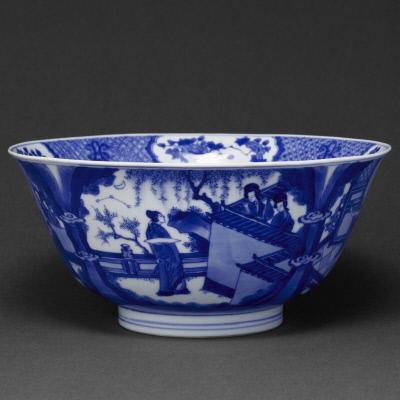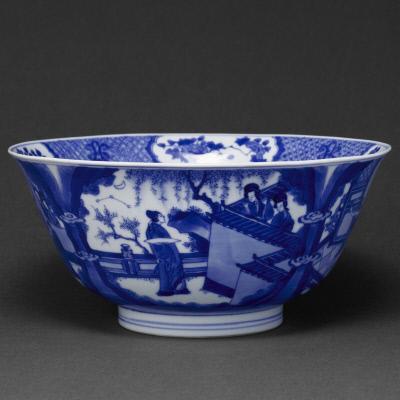 BOWL
Collection of the Seattle Art Museum (not currently on view)
Qing dynasty, Kangxi period (1662-1722)
Porcelain with underglaze-blue decoration, 3 3/4 in. (9.5 cm), height 8 1/4 in. (21 cm), diameter, Gift of Mrs. John C. Atwood, Jr., 70.42
Photo: Paul Macapia
"The fourteenth-century drama The West Chamber tells of a poor scholar, Zhang Sheng, seen here holding a fan, who falls passionately in love with Oriole, an aristocratic beauty. In this night scene, from behind a high wall and accompanied by her clever maid, Crimson, Oriole smiles at scholar Zhang, her hands raised in delight. Shining above them are constellations thought to determine the lovers' fate. The scene appears to represent the two lovers by moonlight in the secrecy of the monastery garden." Mimi Gardner Gates, "Porcelain Stories," p. 118

The perfecting of the underglaze-blue technique made possible richer gradations of the blue color, seen particularly on wares from around the mid-seventeenth to the eighteenth century, and expanded the repertoire of design. Narrative scenes taken from lyrics, plays, and popular novels (like The West Chamber depicted on the bowl) became fashionable around this time, catering to the interests of the rising merchant class and the scholar gentry alike. These interpretive blue paintings told intimate stories to the viewer, and enriched the surface of the blue-and-white porcelain.
How to Purchase
Subscribe to my newsletter to get an email when each Monthly Miniature is finished and the chance to purchase the latest painting. I usually announce when the newest painting will be released for sale on Instagram and Facebook within 24 hours before sending the newsletter.