Once your Limited Edition Print arrives, it's your turn to get creative. Whether your style is contemporary, traditional or anything in-between, there are many options. Choosing the right framing can feel intimidating, but try to enjoy the process and trust your instincts. Check out an article I recently wrote about framing limited edition prints. Continue reading for an in-depth look at one clients framing choices.
Audrey generously shared these wonderful images of her two framed Limited Edition Prints she recently ordered from my shop. I loved how they turned out and thought they could help inspire your own framing choices! If you're in the Holywood, FL area, she recomends Nina's Art and Framing.
What I love about Audrey's framing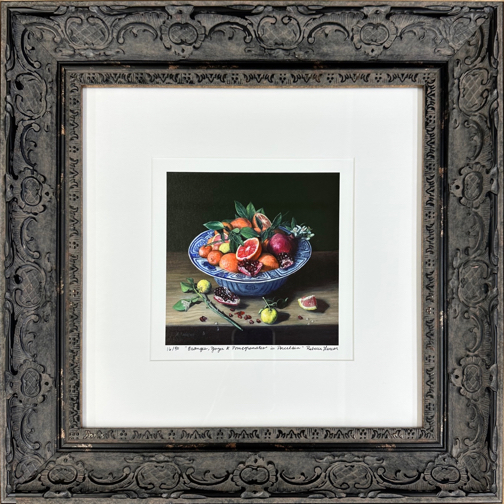 I worked in a frame shop all through art school, and then at the Seattle Art Museum exhibition design department for 15 years. I got to see and hear from the experts on how and why framing should be done in certain ways. Audrey's choices reflect some of these ideas, and I think describing how will help others make their own choices.
The Mat
The mat for a print serves two purposes: it can enhance the look of the artwork, and it protects the art.
The right mat helps draw the eye in and can add a bit of grandeur or drama to the overall presentation of your new artwork. Use a mat between 2″ and 4″ wide. As for color, I've always preferred a simple "white" mat. I feel that a white mat really brings attention to the artwork without any distractions. There are exceptions to this and that's basically your personal taste and decorating style. If your house is overall more bold and colorful, then adding a pop of color in your mat might fit right in. I say try the white first, but ultimately, go with your gut.
And when I say "white" I mean the white that matches the color of the paper best. If you're having your Limited Edition Print custom framed, don't be surprised to have your framer pull out dozens of white mats to choose from!
As to the protective element of matting, keeping space between the Limited Edition Print and the glass is the main goal of the mat. A mat allows air circulation in this space and helps prevent mildew, mold, and buckling. It also keeps artwork from sticking to the glazing material and becoming damaged.
The Frame
The hardest choice of all is picking your frame. This is where your personal taste and creativity really come into play. I often choose narrow, simple frames for matted pieces, which is very different from how I frame my paintings. I've had several clients that framed their prints in this way, using a narrow, simple frame with really lovely results. This choice will be the part where you look at lots of different options, and trust your unique style and taste.
Contrary to what I would normaly choose, Audrey's frame choice is not narrow or simple, but I love it! It's unique and has a lot of personality without being overwhelming. It brings my eye into the images and the pattern and texture compliments the the images in a subtle and appealing way.
Best of luck in your own art hanging adventures! Feel free to reach out via Instagram, or the contact form here on my website, whether you have a question or something to share. I love to hear from my readers and collectors, and fellow art lovers!